Jack Wilshere has endured a career that has so far been littered with injuries, the latest of which looks like will rule him out for another month. 
The 23 year old has looked so promising at times, but just as he begins to pick up form for club and country, he seems to always pick up another injury. What's the problem? An infographic from Goal.com enables us to see just how many injuries he's had, and where.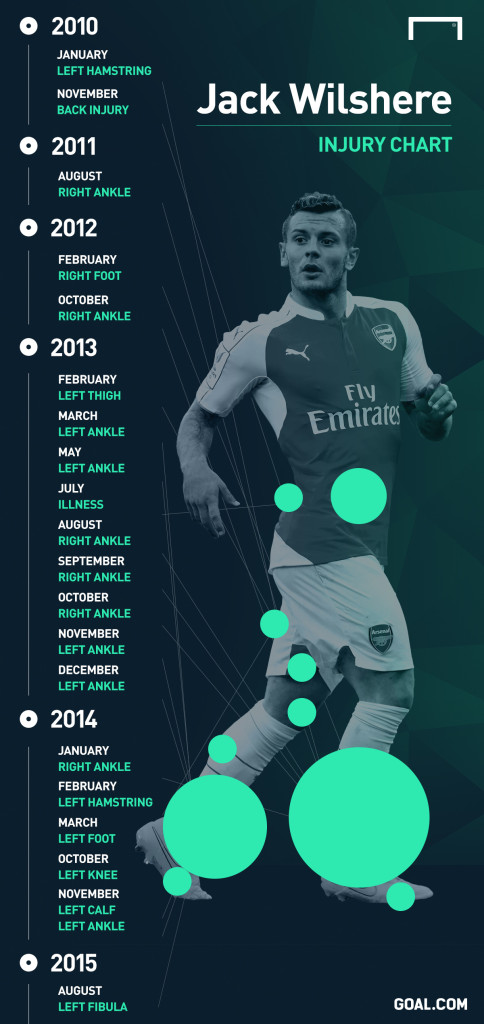 The infographic shows us that it is his lower legs that are most regularly injured. It appears they are most likely made of glass. It's so sad to see such a talent wasted thus far. Luckily for Wilshere, he's only 23, there's still time for him to get his career back on track – but he needs help from the very best.
Another worrying thing about that infographic is that it shows how more regular and serious his injuries have got as the years have gone on. Why is this? Is it something that's going wrong inside the club?
If Jack is to re-discover his best form, he needs to be playing consistently. With his current injury woes he has no chance of doing that, he needs a full season of first team football and at the moment you'd be lucky to get half a season out of him. We need him to recover in the same way that Robin van Persie did, and not follow in the darker footsteps of Abou Diaby.
Personally I'm sick of seeing our best players injured so regularly. So much talent is being wasted, Wilshere cannot continue to have his career ruined like this, something serious needs to be done about it.
What are your thoughts on Wilshere? Can he get back to his best, ever? Will he realise that potential we saw in him, aged just 17 outplaying Barcelona midfielders? I hope so, share your thoughts by commenting below. 
Did you see? If Giroud Gets Injured, Wenger Has Already Signed His Replacement