Back in July at Fresh Arsenal we covered the news that Gabriel Magalhaes was potentially a target for Arsenal. Since then, the Gunners have jostled with the likes of Napoli, Everton and Manchester United in order to win the race to sign one of the most highly-rated young defenders competing in Europe. On Wednesday this week we told you that Arsenal were set to sign Gabriel and make him their second major signing of the summer.
In this article, I, Oli Price-Bates explore the qualities of Gabriel and how he may fit in at the club. The article also contains contributions from Brazilian Arsenal fan Rehnato who has been on the ball with keeping fans up to date with the clubs chase to sign Gabriel this summer.
Life before Lille
Let's go back to 2016 when Gabriel made his debut for Brazilian side Avaí aged 19. After his first game, it didn't take long for him to become a regular in their senior team. In the same year he got called up to Brazil's U20 side. By 2017, the players abilities had attracted attention from Brazilian giants Palmeiras and Flamengo. Both clubs made offers for him but he opted for a move to Europe and Lille because of Marcelo Bielsa. He cost the French club just 3m euros. This was the first burst in the players career. Upon arrival in France, he was forced to be patient – waiting a couple of years and enduring some difficult loan spells at Troyes and Dinamo Zagreb before eventually breaking into the Lille first team in 2019.
Why is he so highly rated?
22-year-old Gabriel is physically strong, standing at 6ft 3', very quick and comfortable with the ball at his feet. This is a rare blend of qualities for a central defender, especially one of his age. It's not often you see a quick, tall strong and composed defender aged just 22. Admittedly to date, he has only demonstrated these qualities in the French league, but he plays with a maturity beyond his years and should adapt to the Premier League.
As a left-footed central defender, he plays as a left centre back and has to date featured in a back four for Lille, alongside former Southampton defender Jose Fonte. An area he sometimes struggles in is his concentration, the experienced Fonte excels in this aspect and so they have formed a successful partnership – something Arteta will need to consider when integrating Gabriel into the Arsenal side.
To label Gabriel a ball-playing defender would perhaps be excessive – the Brazilian tends to look for a long ball rather than incisive passes into the base of midfield – although he is heavily involved in the play for someone so young and has the potential to further improve that side of his game if Arteta wants him to do so. The player himself has already commented on this improvement: "I have progressed a lot. Especially in the passes between the lines. Before, I didn't do it too much.
"But today the big defenders are players who know how to break the lines, who know how to look for space, find the depth. I've progressed a lot on this aspect."
Off the ball Gabriel has averaged 5.1 aerial duels per 90 this season. Of those duels, he has won 3.4 per 90. For comparison, giants Virgil Van Dijk and Harry Maguire have averaged 4.9 and 4.6 aerial duels per match respectively, although with only a marginally better success rate.
Lille's president, Gerard Lopez, believes the player is destined for the top. "I feel he is among the top five dominant central defenders in Europe right now," he said recently.
"His statistics, which aren't well covered outside of France, shows that his percentage for winning duels is pretty unheard of in a league that's extremely physical.
"He's an absolute machine, so to me, he's well on his way – if not this year – to potentially a really big club. I'm certain he's on his way to the Brazilian national team at some point.
So, why only £23million?
Arsenal have been far from the only club interested in the player and it's probable that Lille could've sold him for more money than they eventually accepted. In the summer of 2019 Lille actually rejected a 20m euros offer from Juventus for Gabriel. Magalhaes said in an interview to L'Equipe this year that his dream was to play in the Premier League or in the Serie A – as that would help him reach the Brazilian national team. This summer, Napoli, Everton and Manchester United had all been heavily linked.
You may be asking, so why have Lille accepted just £23million for a player who ticks so many boxes? Well the key caveat to all that we have analysed so far is that Gabriel has only really been competing at a high level for one season and even then, it was in Ligue 1, a league that is very different to the Premier League.
Since joining Lille in 2017, Gabriel struggled to find game time, despite loan spells at Troyes and Dinamo Zagreb. It all changed for Gabriel when Lille were suffering with loads of injuries and manager Christophe Galtier opted to start him against Guingamp, in February of 2019. Since then, he has been a starter for Lille, and a key player for them. In the 2019/20 season, he started 24 games in Ligue 1 before the season was cancelled.
The other youthful central defender to join Arsenal this summer is William Saliba and despite being 19 years old, the Frenchman actually has more Ligue 1 appearances than Gabriel (22). Pairing the duo in their debut Premier League seasons could be a risky move and so it is somewhat understandable that Mikel Arteta has decided to keep the experienced David Luiz at the club for one more season.
Tactical fit
It's possible that when trying to introduce two young inexperienced defenders to both the Premier League and Arsenal, that Arteta could stick with his 3-4-3 formation and deploy Saliba and Gabriel either side of Luiz. This would provide the young duo with an experienced player alongside them, whilst also continuing to play in a system that brings out the best in Luiz. It's worth again highlighting that Gabriel has excelled this season alongside an experienced presence in Fonte.
Passing
Opening up the pitch. Gabriel is very reliant on his left foot, only making 5% of passes with his right. This could be a limiting factor, but it will also be a strength when playing in the left centre back role. Gabriel attempts a lot of long balls, no other central defender in Ligue 1 completed as many final third entry passes as him. For comparison, only van Dijk, Maguire, Toby Alderweireld and Lewis Dunk have completed more final third entry passes (vs. all central defenders in the Premier League).
Gabriel often aims for a riskier pass rather than simply passing to his fellow defenders or back to his goalkeeper. His signature pass is a long ball to an advancing full-back or between opposition central defender and full back. You can see how he could combine very well with the likes of Tierney, Saka, Aubameyang and Pepe here.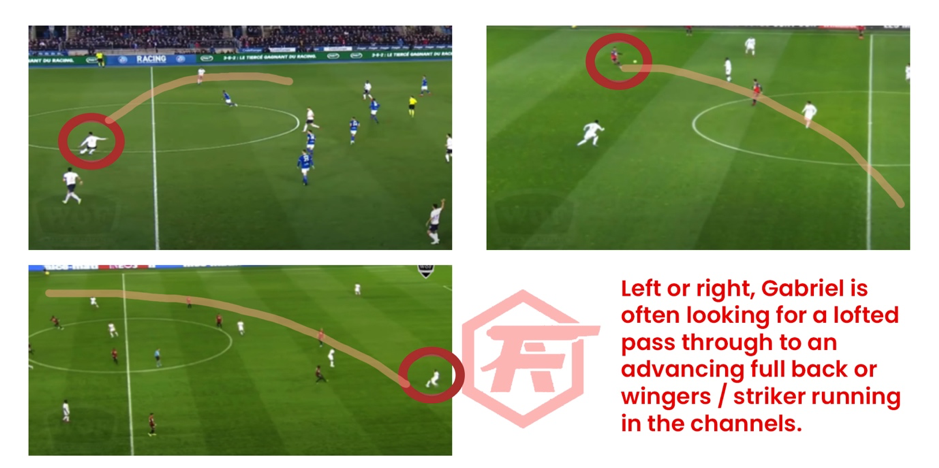 As we said earlier, Gabriel prefers a long ball but is working on his through the lines floor passing and has improved in that area. As the graph shows below, in terms of all central defenders in the top 5 European leagues that are under the age of 24 and have played at least 1,000 minutes – Gabriel comes out very favourably in the progressive passing stats. He is averaging 10.12 passes to the final third per 90 and 11.46 progressive passes per 90 – something that will really catch the eye of coach Arteta as he aims to progress the ball more efficiently and effectively from back to front.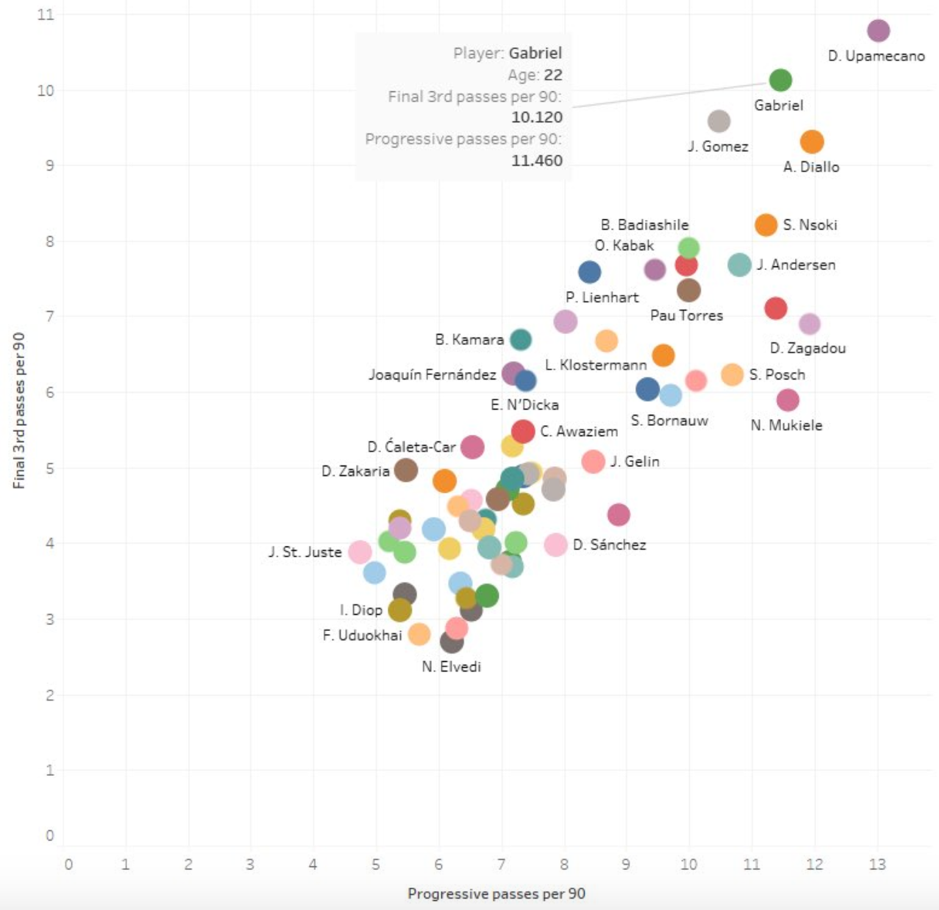 Front foot defending
Gabriel's aggressive style of defending often sees him take the initiative in defensive scenarios. See the first example below, two of his teammates are standing off the player, Gabriel takes the initiative and makes the tackle. Whilst this can be a risky style as it could lead to a mistimed tackle or the player skipping round him, his confidence in the duel is often a huge benefit.

In the second tackling example below we see some more of these qualities, as well as his calmness on the ball.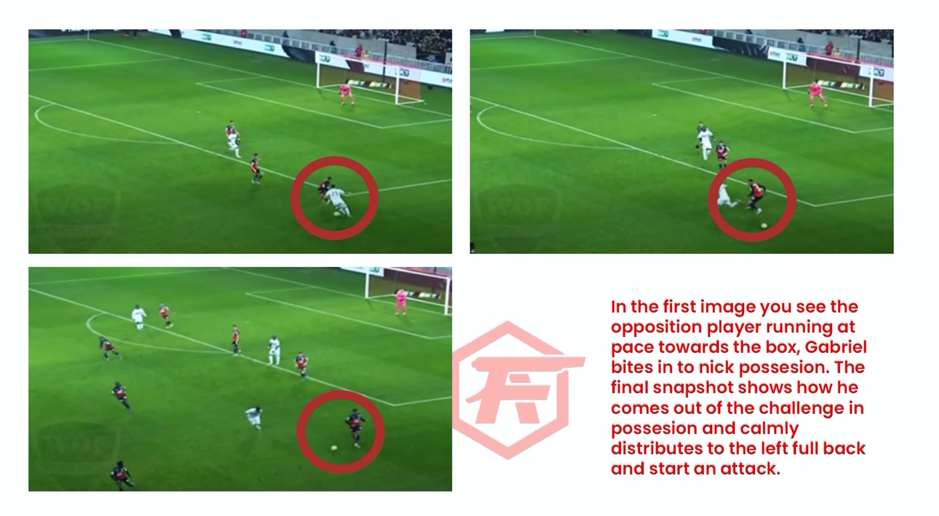 In the final example we see how this front foot defending can lead to more chances created.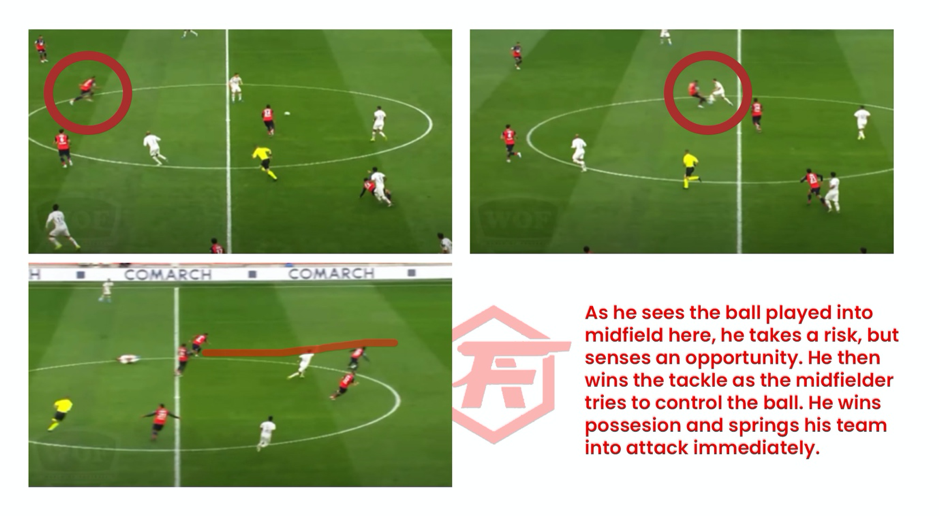 The negative to this tackling style is of course that he can make fouls by being too aggressive. Also at times Gabriel has a tendency to dangle a leg into a duel rather than fully committing and this sometimes sees him lose out or lose possession, despite winning the tackle.
Another point to note on his tackling is how he doesn't hesitate to slide when he feels necessary. Although he is often successful with this and it can look very good, as many great defenders have shown before, if you read the game well enough, there is no need to hit the deck.
In terms of duels won both in the air and on the floor, the Brazilian also ranks highly amongst his peers. If you couple the statistics below with the passing stats above, you can see why the Brazilian is so highly rated. Gabriel leads Lille's defenders this season in aerial duels won, with an average of 3.5 per match.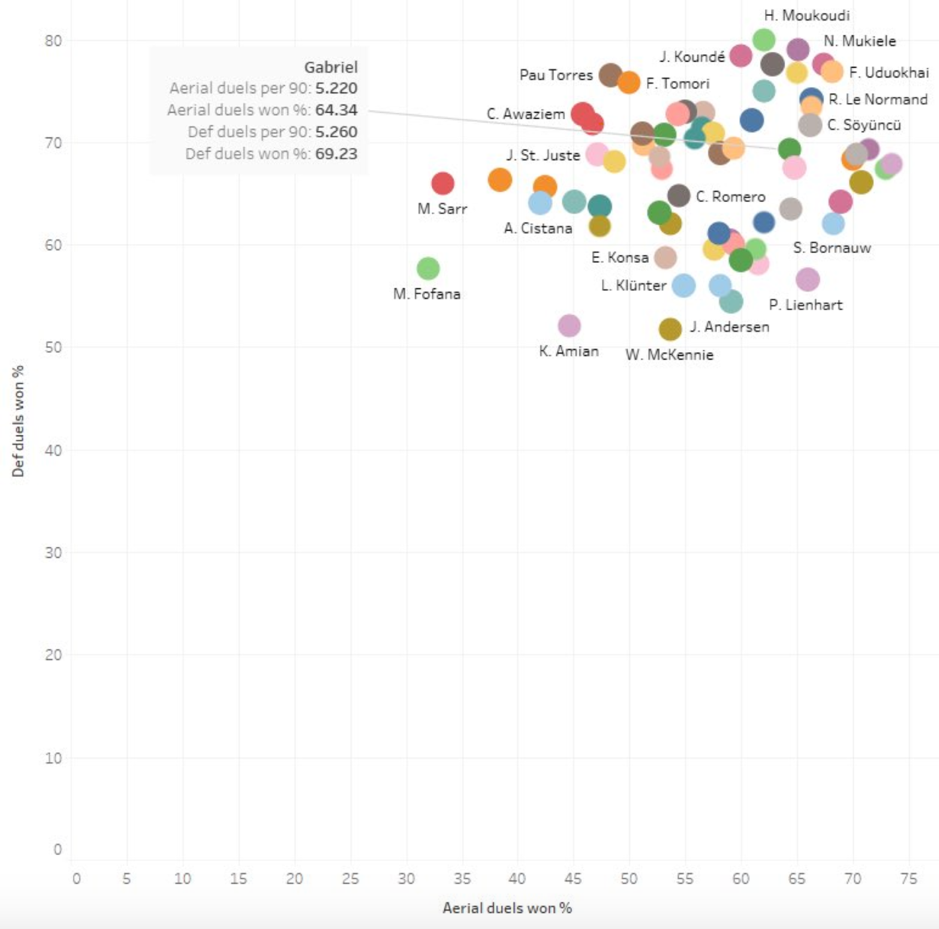 So with all of this in mind, how could Arsenal line up with Gabriel in the team? I think it's likely that he has already skipped ahead of Pablo Mari in the pecking order. The key question is whether Arteta wants to start with a back four or five. In a five, as mentioned earlier, Gabriel and Saliba could feature either side of Luiz or even Mari. But Gabriel is comfortable playing in a back four and that could well be Arteta's long term view for Arsenal, especially given the clubs rumoured interest in the likes of Phillipe Coutinho, Houssem Aouar and Thiago Alcantara – creative midfielders which would likely force a change in shape. In a four, the long term view would surely be Saliba alongside Gabriel – but for next season I would expect a Brazilian partnership of Luiz and Gabriel for the most part. It's hard to completely predict as a lot will depend on whether or not Luiz makes too many mistakes and how the trio of Mari, Gabriel and Saliba settle in England. If Gabriel can hit the ground running like he did for Lille when he got his chance, there will be no need to take him out of the team and he could cement a place. It's a long season and with Arsenal again in the Europa League – I have no doubt that all four will get ample game time in the 2020/21 season.
Amongst Arsenal's plethora of central defenders, Luiz presence is key
With Gabriel joining, the Gunners now appear overloaded in central defence. Sokratis, Skhodran Mustafi, Rob Holding and Calum Chambers all seem to have been put in the shop window, whilst we now know for sure that David Luiz, William Saliba, Pablo Mari and Gabriel Magalhaes will be at Arsenal next season. That's four central defenders, Arteta may want five given the fact that recently the club have been playing with three in the starting eleven. Even if he wants five, there is still plenty of work to be done at Arsenal to shift the deadwood and neaten the clubs options in that area of the field. Sokratis is being heavily linked with a move to Serie A, whilst Calum Chambers could re-join Fulham following a successful loan spell in 2018/19. Shifting three or four of these excess options could raise valuable funds which could be reinvested in other areas of the squad.
In David Luiz, William Saliba, Pablo Mari and Gabriel Magalhaes – Arsenal would have a good balance of two naturally right-sided central defenders and two left. There is also a good mix of youth and experience in those four options but again it would only be Luiz who has featured in more than two Premier League games. This once again highlights how important it is to have kept Luiz on for another year, even if his on the field contributions will not be as prevalent as the season progresses, his presence in the squad will be an important one.
As a fellow Brazilian, Luiz could play an important role off the field in helping Gabriel settle at the club.
In conclusion, this appears to be a real coup for Arsenal and an opportunity for the club to say they have outsmarted the market. Like with Saliba, fans will need to ensure they are patient with Gabriel, especially in their debut Premier League seasons, but the long term view for Arsenal's defence certainly appears positive. It has been a while since we've been able to say that.
Thanks very much for reading this lengthy piece. If you enjoyed the article or have some feedback, please tweet me @OliPriceBates.