It's the transfer window and it is widely accepted that Arsenal need to improve the spine of the team. However I'm growing tired of seeing the club linked to every striker, centre-back, keeper and central midfielder on the planet. This article is called 'more than just a position' and I will look at what types and styles of players I believe Arsenal should be looking at and then provide some suggestions. Feel free to leave your own thoughts and suggestions in the comments section below.
First of all I'm going to look at the heart of the Arsenal defence. It's clear, with only three senior centre-backs at the club this area needs to be bolstered. In the second half of the season we saw Arsenal completely re-shape defensively and suddenly the defenders became the most important and best performers game by game. This was built on a base of Per Mertesacker and Laurent Koscielny. Those two complement each other perfectly and I wouldn't bring in anyone to replace them, but to provide competition. Waiting in the wings we have Thomas Vermaelen who plays in a similar way to Laurent Koscielny. Both are front-foot defenders, looking to intercept, and bring the ball forward, always tight to their man. With Per Mertesacker we have that back-foot defender, who is more negative in his passing game, but is seen as the covering defender – the last line. In the squad we lack anyone else of this ilk and that's why, when the German is absent, the whole defence seems to be absent. Someone like Ashley Williams seems suitable for this role, and I wouldn't be against signing him. However, with all of our current trio are in the 26-30 age range, a younger defender seems suitable. Also consider the fact that whoever comes in will most likely be fourth choice – a younger player is more likely to be happy with this.  After watching the France u20's this summer, Kurt Zouma strikes me as a player who could potentially fill this void. He's in demand and wouldn't be cheap, but with that potential and at just 18 years old, he'd be a brilliant acquisition in my opinion.
The keeper situation is quite self-explanatory. With 23 year-old Woijech Szczesny seen as the clubs long-term number 1, some experienced competition is really needed. It's something the fans have wanted for some time, a reliable experienced stopper. Whilst I wasn't too sure on Cesar in May, his performances at the Confederations Cup this summer were enough to convince me he is the right target especially at just a few million pounds. He's coming off the back of a brilliant tournament and will want to be the number 1 for his country in Rio next summer; he's the perfect stand-in and player for Szczesny to learn from. New season Arsenal tickets are now available  and a safe keeper would calm all the nerves at the Emirates. An alternative is 28 year-old Rene Adler. His age might 'kill Szczesny' as Arsene might say, but at the end of the day if he improves the team he's worth considering. Mark Schwarzer wouldn't have been a bad signing, but I feel we are looking more for an experienced number 1 than a experienced back-up.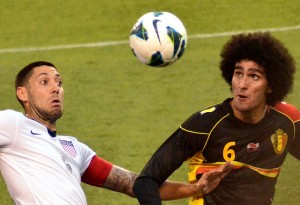 In midfielder the team lacks that physical presence, especially with the pro-longer absence of Abou Diaby. We are a different team with a fit Diaby and I can't stress how important I feel it is too bring in someone in that mould. It's why I will once again suggest the signing of Marouane Fellaini. He's also extremely versatile, like an extra substitute. Talking about his versatility the two games against Arsenal last season are the perfect example. In the first he played in an attacking midfield role and scored Everton's goal in a 1-1 draw. In that game he really made it hard for Arteta to do his normal job in that deep lying playmaker slot. Fellaini used his robust nature to muscle-out the Spaniard and disturb Arsenal's fluency. Stopping Arteta at the base of Arsenal is stopping their whole game before it can begin. Whilst David Moyes must gain some credit for doing this – Fellaini is an intelligent player and he knew the implications of his actions. Then take the second game at the Emirates. A game Arsenal needed to win, so Fellaini sat back in the holding role. This time it was Jack Wilshere and Santi Cazorla's time to get frustrated. The Belgian aided with his long legs made it extremely difficult for the team to get through to the Everton defence. Despite playing a deep role I did notice Fellaini at times show off his box-to-box talents when carrying the ball forward to relieve pressure off his team – a special trait which makes him perfect for a box-to-box role. That's where I'd see him playing for Arsenal; the ability to carry and hold onto the ball is something that is so important for a team in Arsenal's formation. Gareth Barry has been mentioned. He's far from the ideal candidate, but would offer some experienced back up to Mikel Arteta. In my opinion signing Barry would not fill the void needed, which I have explained above. Apart from Fellaini we haven't really been linked to players in the mould of who I'd ideally like to see signed. Lars Bender is a brilliant player, but a player of his style and ability that are more natural box-to-box players and physically taller and stronger would make more sense. Someone in that Yaya Toure mould. Kevin Strootman would have done a job, but he looks destined to join Roma. Someone like Geoffrey Kondogbia would be a cheaper alternative and perhaps more suitable given his tender age of just 20. At the end of the day whoever is signed at the base of the midfield will dictate how the Arsenal midfield play for the next 10 years or so – but to fully appreciate Mikel Arteta and add diversity to our midfield, a box-to-box player like Fellaini should be the priority.
Next – attacking midfield. We are used to Arsenal creating chances in abundance, but last season that statistic was cut worryingly short in some games. To get the best out of any striker we sign the midfield needs to be more creative, and for that to happen Arsene changed the midfield in the New Year. Santi Cazorla moved to the left hand side to contribute to the midfield instead of having a more direct and less involved player in Lukas Podolski on the left. I think this was a sign of things to come and it certainly added some energy and extra eyes in a midfield that was lacking that final ball. Jack Wilshere is earmarked for that number 10 spot, but I feel if we sign a proper number 10, Wilshere could perhaps thrive in the box-to-box role I described above. He has all the attributes but just needs to work on his defensive positioning and discipline, something Ramsey has over him. In terms of who I'd like to see purchased in this role – Cesc Fabregas. Is that realistic? Time will tell. I don't need to write much about what Cesc Fabregas would add to the side because we all know how good he is. Adebayor scored a bucket load with Cesc behind him, anyone could. If Fabregas is not available whom could we sign? Clement Grenier has been mentioned – I'm yet to be convinced. I think we should be looking at the calibre above. The likes of Javier Pastore and Mesut Ozil could be out of favour with new managers and new signings. Erik Lamela, a player who likes to play from the left – this could allow Santi to move central again. All these players probably seem 'unrealistic' but Arsenal need to push to pull a couple of signings out of the bag, signings people thought they'd never be able to pull-off. Wayne Rooney has been talked about in a deeper role, but the longer this drags on the more I feel he will stay at Manchester United.
Next up is the striker role. Arsenal fans have had their heart tested this summer with names such as Wayne Rooney, Luis Suarez and Gonzalo Higuain mooted. At the moment Yaya Sanogo is the only striker (and player for that matter) to sign. However it's pretty clear that the Gunners are after a big name up top, if a creative midfielder arrives then Gonzalo Higuain seems both the most plausible and sensible option. Whilst Luis Suarez has immense talent, I really can't see it happening – so I won't dwell on that one too much despite BBC confirming Liverpool rejected a £30million bid from Arsenal. Despite the hold up Higuain still seems the most likely, Madrid are just searching for another striker to come in first, which could well be Suarez. Someone like Higuain would thrive with a player like Cesc behind him. We need a striker who scores goals, and despite what many say, Higuain contributes to team play throughout the game. He's a hard worker and will constantly make runs on the shoulder. Having 2 creative midfielders behind the striker will really help get to most out of a poacher type player like Gonzalo, and on the right a direct winger like Theo Walcott adds a different thorn to the attack. There are many available tickets at the Emirates this season, and a big name striker will go some way to reducing that number.
Suggested purchases: Júlio César (Queens Park Rangers), Kurt Zouma (Saint Etienne), Marouane Fellaini (Everton) / Geoffrey Kondogbia (Sevilla), Cesc Fabregas (Barcelona), Gonzalo Higuaín (Real Madrid) — Estimated Cost: £100million. So, not too much to ask for then! I know the likelihood of us spending this amount is extremely small, but this article is written purely based on what I think we need – in an ideal world. Cheaper options and watered down versions of these players will be available, but in this article I hope to have shown that what we need is more than just a position, it's a type and style of player that are essential for our formation to be successful.
Sign up to our new free weekly newsletter to get the updated Arsenal Power Rankings to your inbox every week, plus lots of other Arsenal content by clicking here. Like us on Facebook and follow us on Twitter for Arsenal news and stats including breaking transfer news. Subscribe to our new YouTube channel for video content.