Embed from Getty Images
Santi Cazorla's 2014/15 season kicked off to a flying start. Or at least a goal. In the Community Shield match, the traditional season opener at Wembley on 10th August, he scored his first goal of the season for Arsenal against Manchester City. Things were looking good. The traditional chant of "Oh Santi Cazorla!" rang round the stadium. Then a fortnight later on 23rd August he bagged an assist for Aaron Ramsey's goal against Everton. Since then there's been nothing. Zilch. Or as Santi would say "nada".
For a moment we'll take a brief look at Santi's performance in the English Premier League since joining Arsenal. The 2012/13 season saw him score 12 goals and claim 11 assists in 38 games. 2013/14 there were four goals and eight assists in 31 games – the reduction in the number of games played was due to injury. To date in the 2014/15 season it's just one assist in eight appearances.
You can see Santi's full Arsenal career to date here: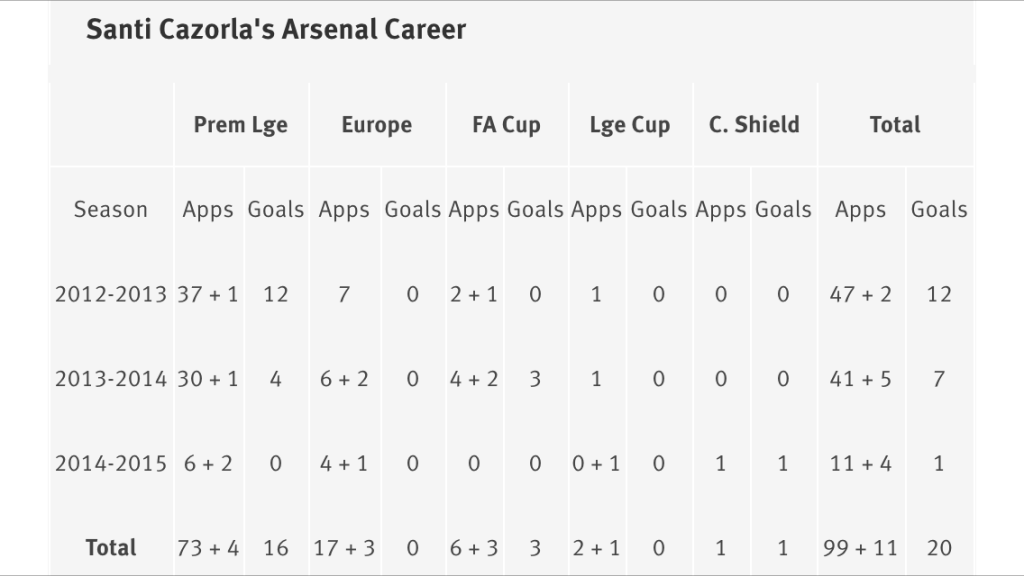 In August 2014 Santi laid out his own personal target for the season ahead:
"I hope to equal or beat my goalscoring tally from last year," he said. "That's something every player wants to achieve. Hopefully I'll help the team with many goals because that would be a signal that I can be useful. Apart from that, I'd like to play as much as possible. Luckily the manager has always trusted me in the previous two years. I played a good number of games and hopefully I'll keep doing so."
At 29 Cazorla isn't the oldest of Arsenal's midfielders but could it be the impending approach of his fourth decade that has something to do with the decline in his results this season? Maybe it's something to do with being played in a slightly deeper role that he's not yet fully adapted to. On the other hand, for the first time since he joined us, there are a fair number of new players within the squad and gelling as a team is taking time. Maybe it's none of these, some of these or all of these that have caused a dearth of goals and assists for Cazorla.
Whatever the reason or reasons are, now may be a good time for Santi to take another look at his personal target and reaffirm them in his mind. For when we sing "Oh Santi Cazorla!" we would prefer it to be in a celebratory style rather than a holding our head in our hands manner.