Goalkeeper: Wojciech Szczesny
Arsenal's summer signing David Opsina is currently nursing a thigh injury, giving Wojciech Szczesny an early chance to establish himself as Arsenal's No. 1 this season. His performances against Manchester City, Crystal Palace and Besiktas have been impressive so far, and with Emiliano Martinez as the only other available first-team goalkeeper, Szczesny will almost certainly start this weekend against Everton.
Right-Back: Mathieu Debuchy
Many people have been saying that Mathieu Debuchy is simply a replacement for Bacary Sagna. However, based on his performances so far this season, he's not just a replacement, but an upgrade. Calum Chambers has been taking all the plaudits so far for his defensive performances, but Mathieu Debuchy hasn't done badly either. He has been the runner-up for the Arsenal.com 'Man of the Match' award in all three games this season, losing out to Aaron Ramsey, and Calum Chambers on two occasions. Calum Chambers could start at right-back, but Mathieu Debuchy looks set to make this position his own.
Right Centre-Back: Per Mertesacker
Yes, the Big F*****g German is back, and this time as vice-captain! However, with the injury club captain Mikel Arteta, Mertesacker looks set to skipper the side against Everton on Saturday. Despite the impressive performances of Calum Chambers so far this season, Wenger will most likely choose the former German international to partner Laurent Koscielny in defence, a partnership which looked very solid for the majority of last season.
Left Centre-Back: Laurent Koscielny
Like Debuchy and Chambers, Laurent Koscielny has stood out in his defensive performances for Arsenal so far this term. The Frenchman has great pace for a centre-back, which he uses to make countless interceptions, but also good strength and impressive passing accuracy. What's more, he can grab a goal for Arsenal, which has proved vital in the past. He scored the equaliser against Crystal Palace last Saturday, adding to his list of important goals, such as the equaliser in the FA Cup Final, or the winner against Newcastle to get Arsenal into the Champions League by just one point.
Create your own Arsenal XI here
Left-Back: Nacho Monreal
With Kieran Gibbs' recent injury, Nacho Monreal looks set to step into the Arsenal starting line-up. Monreal often looked the weak point of Arsenal's defence in the games in which he played last season, but when he has played so far this season he has appeared more solid. Monreal's strength has always been going forward, so he will look to do so again against Everton this weekend, however he will need to ensure the defensive side of his game does not let him down.
Right Centre-Midfield: Mathieu Flamini
The defensive midfield position has been one of much dispute so far this season, with Arsenal expected to sign a specialist before the end of the transfer window. For now, however, Arsenal must make do with their current crop, and with the injury to Mikel Arteta, Mathieu Flamini looks set to step in for the Spaniard. Flamini put in some impressive performances last season, but his lack of discipline and natural pace appears to let him down at times. Some have suggested that Calum Chambers could move into defensive midfield, or even Jack Wilshere of Francis Coquelin. However, in a big game, Wenger is likely to stick with the more experienced Flamini.
Left Centre-Midfield: Aaron Ramsey
This position pretty much picks itself. Aaron Ramsey was Arsenal's 'Player of the Season' last year, and looks set to enjoy yet another stand-out role this term. Having already scored goals against Manchester City and Crystal Palace this season, Ramsey is often referred to as Arsenal's 'go-to man' when they need a goal, and is a vital component of the Arsenal team. A potential alternative is Jack Wilshere, though he has struggled to make an impact so far this season.
Right-Wing: Alexis
Unfortunately, it seems as if Arsenal fans will have to wait further still to see what Alexis can do when playing as a striker. Wenger has deployed Alexis as a winger for all of the games so far this season, and, whilst he has looked dangerous, it is clear that his talents are more suited to a striker's role. His last game against Besiktas in the Champions League qualifier was his best yet in an Arsenal shirt, as he beat the opposition players easily with his pace and skill. His crossing looked good too, but Olivier Giroud's wastefulness in front of goal made for a frustrating evening for the Chilean international. A potential alternative would be Alex Oxlade-Chamberlain, but only if Wenger decides to start Alexis as a striker, or even on the left-wing.
Attacking Midfield: Mesut Ozil
Another German who should return to Arsenal's starting line-up this weekend is record signing Mesut Ozil. Ozil endured an up-and-down first campaign in England, in which he started on fire, but faded as the season went on. However, having been part of the World Cup-winning Germany squad of Rio 2014, Ozil has been given a long rest by Arsenal, and should now be ready and refreshed to begin first-team action once again. Ozil could thrive if Wenger decides to play Alexis as a striker, but could have less of an impact on the game if Wenger sticks with Olivier Giroud up-top. Potential alternatives include Jack Wilshere, who has been playing Ozil's role in his absence, or the veteran Tomas Rosicky, although the latter is particularly unlikely.
Left-Wing: Santi Cazorla
Santi Cazorla has looked tired in the opening few games of the season, but has opened his scoring for the season with a well-taken goal against Manchester City in the Community Shield. Cazorla has struggled to make an impact in the other games so far this season, but his class is undoubted, and you would be a brave man to omit him from your team. His dribbling is tidy, his passing is incisive, and on his day he can outplay anyone. Potential alternatives include Alexis being played on the left-wing; Oxlade-Chamberlain being played on the left-wing; Costa Rican star Joel Campbell; or even Lukas Podolski, who has also returned from World Cup duty.
Striker: Olivier Giroud
Unfortunately, it looks as if Wenger is going to start Olivier Giroud up-front against Everton, despite his poor form against Crystal Palace and Besiktas. The Frenchman did, however, score a beautiful goal against Manchester City in the Community Shield, and Gunners' fans will be hoping that he can replicate this sort of brilliance against the Toffees on the weekend. The lead the line well last season, scoring 22 goals, but there are reports that Arsenal are looking at PSG striker Edinson Cavani to replace the French international. Potential alternatives include Yaya Sanogo, who could recover from his injury which kept him out of the Besiktas tie;  Lukas Podolski, who has returned from World Cup action, but is rarely used in his preferred striking role; Alexis, who Wenger has referred to as a 'striker', but has not played there for Arsenal as of yet; or Joel Campbell, who has yet to get his chance in a competitive game under Wenger this season.
Bench: Emiliano Martinez, Calum Chambers, Jack Wilshere, Tomas Rosicky, Alex-Oxlade-Chamberlain, Joel Campbell, Lukas Podolski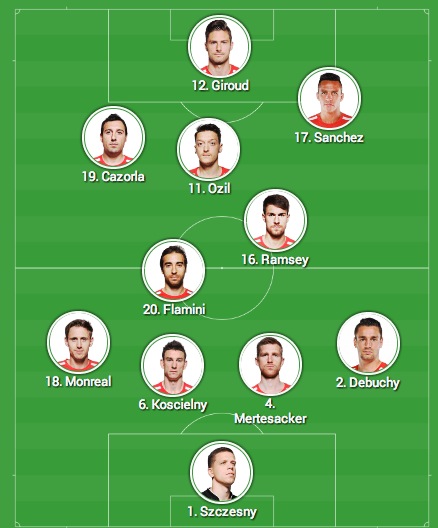 Create your own Arsenal XI here