With yet another season drawing to a close, following a campaign full of ups and downs, I decided to take an in depth-look at Arsenal's season. Unusually for the Gunners, they will have a trophy to play for at the end of a season for the first time since the ill-fated Champions League Final in 2006, so with Champions League qualification in the bag, there could be more cheer to come.
August
Rebuilding from Disaster
Seldom have I witnessed an angrier atmosphere at the Emirates than during the dying minutes of the opening day of the season, against Aston Villa. Robbed of Laurent Koscielny due to an incredibly harsh red card, and the subject of not one, but two, dubious penalty calls, Luna's goal in injury time sent the ire of the Emirates from Anthony Taylor towards Arsene Wenger. Arsenal's season looked dead in the water before it had even begun, with no new signings forthcoming, following the purchase of Flamini and Sanogo on frees. A trip to Fenerbache followed, but against all the odds, in a hostile atmosphere, Arsenal, without Wilshere, Vermaelen and Chamberlain, won 0-3, effectively securing passage to the Champions League Group Stages. Normal service was resumed against Fulham, with Podolski scoring a brace in a 1-3 win, despite rumours about his unhappiness at Arsenal. Aaron Ramsey scored a smart volley in Arsenal's 2-0 Second Leg win against Fenerbache, as Arsenal started to rebuild their confidence following the Villa defeat. However, injuries had already begun to play a part, with Podolski and Chamberlain ruled out until Christmas.
Results:
Arsenal 1-3 Aston Villa
Fenerbache 0-3 Arsenal (Champions League Qualifying Round)
Fulham 1-3 Arsenal
Arsenal 2-0 Fenerbache (Champions League Qualifying Round)
September
Here comes the King
A month that could change Arsenal forever. Within 24 hours, the entire dynamic of Arsenal Football Club had changed, first with the morale boosting win over Andre Villas Boas' expensively assembled Spurs team, and then with half an hour to go on Transfer Deadline Day, Arsenal smashed their transfer record, spending £42.4m on Mesut Özil, proving to the football world that Arsenal were no longer the much maligned selling club of years past, and could finally compete meaningfully with the footballing elite. The signing of Özil seemed to galvanise the team, as after providing Giroud with an assist just 11 minutes into his debut against Sunderland, Giroud becoming only the 9th player in Premier League history to score in the opening 4 games of a season, Arsenal won 3 of the next 4, moving top of the league by the end of the month.
Results:
Arsenal 1-0 Tottenham
Sunderland 1-3 Arsenal
Marseille 1-2 Arsenal (Champions League Group Stage)
Arsenal 3-1 Stoke
West Brom 1-1 Arsenal (Arsenal won 4-3 on penalties) (Capital One Cup)
Swansea 1-2 Arsenal
October
Hope Grows
October was a mixed month for Arsenal, as after beating Napoli in one of their performances of the season, their seemingly serene passage to the Champions League Last 16 suffered a huge setback as Robert Lewandowski scored a late winner to give Dortmund victory at the Emirates. Sandwiched between the two Champions League ties was a draw at West Brom (again), and a home win against Norwich, with Jack Wilshere scoring, what is for me, the goal of the season. Despite being down to 10 men, Arsenal edged past Crystal Palace, but the month ended on a slightly sour note, as Chelsea defeated Arsenal in the Capital One Cup.
Results:
Arsenal 2-0 Napoli (Champions League Group Stage)
West Brom 1-1 Arsenal
Arsenal 4-1 Norwich
Arsenal 1-2 Borussia Dortmund (Champions League Group Stage)
Crystal Palace 0-2 Arsenal
Arsenal 0-2 Chelsea (Capital One Cup)
November
Defence and Ramsey come to the fore
November was the month when Arsenal fans really started to believe. 5 wins from 6, with just 1 goal conceded, led many to believe that this was the season that Arsenal could finally win the Premier League. Aaron Ramsey scored crucial goals against Liverpool and Dortmund, as Arsenal became the first ever English side to win at the Westfalenstadion. A trip to United followed, as the media hype about Arsenal gathered pace, but a disappointing afternoon followed, with everybody's favourite Dutch striker scoring the winner. 3 wins in a row followed, with no goals conceded, as Aaron Ramsey's double against Cardiff sent Arsenal 7 points clear at the top of the league.
Results:
Arsenal 2-0 Liverpool
Borussia Dortmund 0-1 Arsenal (Champions League Group Stage)
Manchester United 1-0 Arsenal
Arsenal 2-0 Southampton
Arsenal 2-0 Marseille (Champions League Group Stage)
Cardiff 0-3 Arsenal
December
Hanging On
December proved a frustrating month for Arsenal, with a run of 4 games without a win denting their burgeoning title challenge and push for Champions League progression. The month started well, with 'The World's Greatest Striker,' Nicklas Bendtner seeing off Hull. Everton then came to the Emirates, and played one of their games of this season, leaving with a fully deserved draw, despite Giroud hitting the bar from 25 yards with the last kick of the game. A trip to Napoli followed, where Arsenal's seemingly smooth passage through the 'Group of Death,' hit a hitch, as Napoli won 2-0, leaving Arsenal second in their group to Dortmund after three teams finished level on 12 points, dreading the draw for the next round. The fixture list gave Arsenal no favours, and they went to the Etihad to face Manchester City in their 3rd game in 6 days. City had won every home game in the league leading up to this game, and a flurry of goals finally saw Arsenal off in the last 20 minutes. The bad news kept on coming, with Arsenal drawing Bayern Munich in the Champions League last 16. Arsenal then played Chelsea in the most atrociously boring game I've ever seen, well at least until the next time Chelsea took to the field, knocking Arsenal off the top for the first time since September, but they returned there with successive wins away to West Ham and Newcastle to finish the year off, as they won the most points in the Premier League in the calendar year 2013.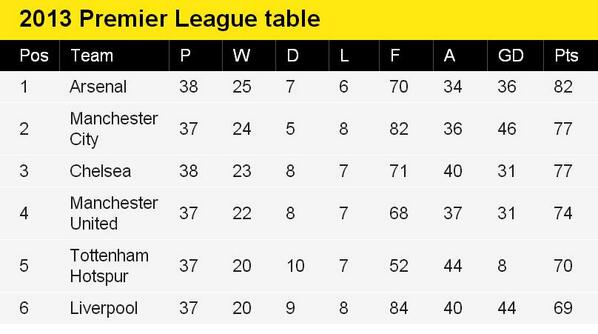 Results:
Arsenal 2-0 Hull
Arsenal 1-1 Everton
Napoli 2-0 Arsenal (Champions League Group Stage)
Manchester City 6-3 Arsenal
Arsenal 0-0 Chelsea
West Ham 1-3 Arsenal
Newcastle 0-1 Arsenal
Our half season record read: P 29, W 20, D 3, L 6, winning 68.9% of our games and averaging 2.17 points per game, an excellent start to the season, and Arsenal fans were confident heading into the new year. However, away fixtures against Liverpool and Chelsea remained…
Be sure to visit www.fresharsenal.com again for Part 2 | Follow me on twitter: @gunnerblogger97 | Header photo via wonker